This post is part of a series where Rutgers grant and/or fellowship winners are invited to share their thoughts and experiences with the process of applying for funding in graduate school.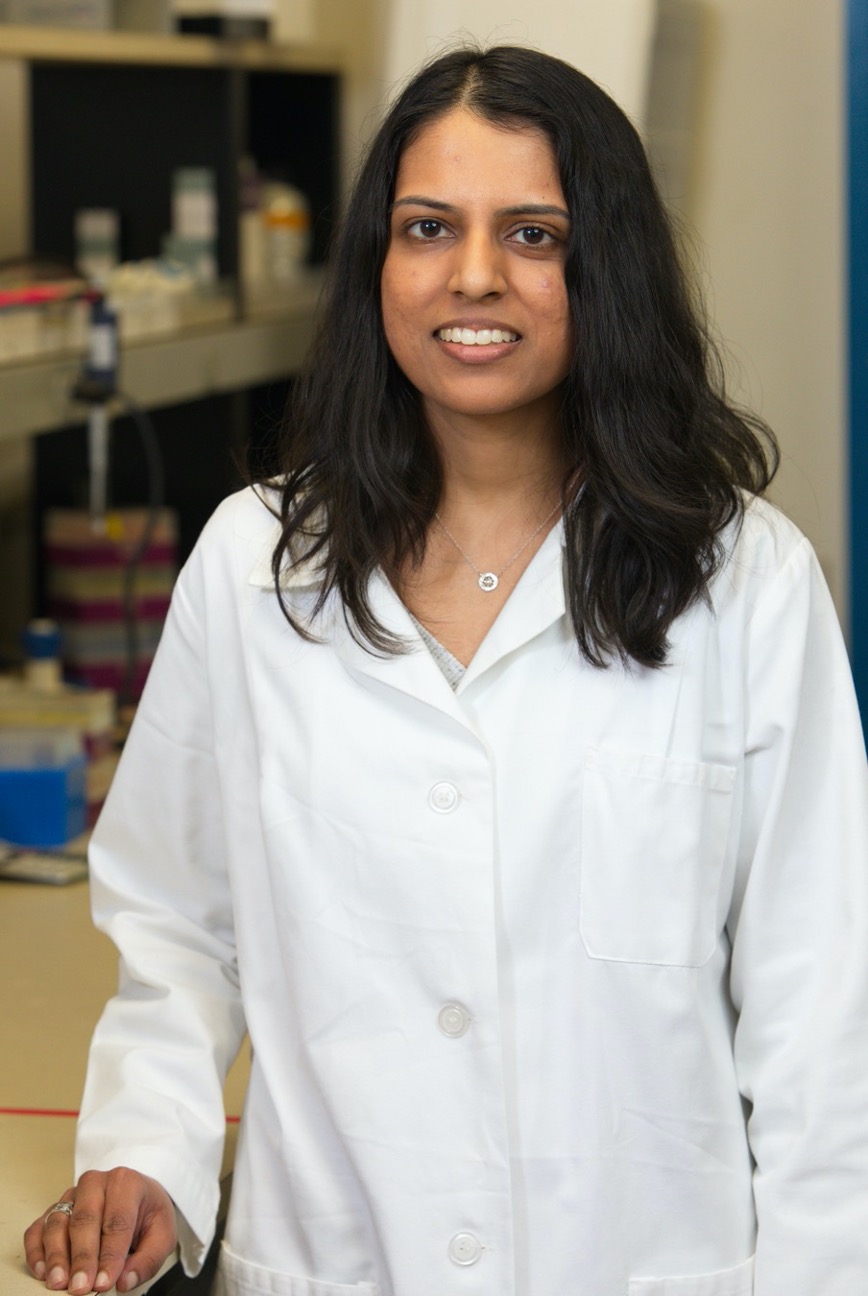 By Nisha Singh
Hi! I am Nisha, and I am currently beginning my fourth year as a Ph.D. student in the Cell and Developmental Biology track of the Molecular Biosciences Program under the supervision of my advisor Dr. Bonnie Firestein. Many key facets of Rutgers make it a wonderful place to complete my graduate education. Due to its large size and location, there are many resources available to students through the university and surrounding institutions. However, despite its size, students receive individualized attention from professors, advisors, and other mentors. It is also a very collaborative and diverse community. Furthermore, Rutgers is a hub for cutting edge biomedical research and offers excellent training and educational opportunities for aspiring scientists.
My thesis research focuses on spinal cord injury (SCI), which involves an impact or force inflicted upon the spinal cord that results in tissue trauma from the death and damage of cells in the nervous system. This damage alters these cells' signaling capabilities, preventing their proper communication with the brain and body. Such interferences in communication lead to pathologies such as loss of motor function, loss of autonomic bodily functions, and increased pain sensitivity in patients. Additional disruption of cellular communication (secondary phase of injury) occurs and can cause further damage to the spinal cord, worsening these symptoms. I am studying the role of the enzyme cypin during the secondary phase of SCI and exploring its viability as a therapeutic target.
Elucidating the molecular mechanisms underlying the secondary phase of SCI is crucial for developing novel drugs and other pharmaceutical agents that can be used for treatment. Furthermore, the development of treatments targeting the events that occur during the second phase of injury is crucial for improving patient recovery. However, treatment options are currently minimal.
My current career goal is to become a principal investigator in academia. I want to head my own biomedical research lab and train the next generation of scientists.
My experiences with the world of funding
I have received multiple internal and external grants and fellowships throughout my graduate career at Rutgers, including the NIH Rutgers-UMDNJ Biotechnology Training Grant Fellowship, 2018-2020; the NJCSCR Spinal Cord Injury Techniques Training Travel Grant, 2019-2020; and most recently, the NJCSCR Spinal Cord Injury Fellowship Grant, 2020-2022
The fellowships that I have received have been invaluable for my graduate training and professional development. They have helped to support my research on the molecular mechanisms underlying spinal cord injury (SCI). They have also provided me with opportunities to learn more about current methodologies used to study SCI, their implementation, and the experimental designs associated with them. Furthermore, they have helped me become more well-versed in biotechnology, provided networking opportunities, and provided opportunities to present my research. These fellowships equip me with the skill sets that I need to become a successful biomedical principal investigator and make meaningful contributions to the field.
My advice for other applicants
· Manage your time well during the application process.
· It is best to go through several drafts of your application before submission, so make sure that you have enough time to do so.
· Ask others for feedback on your application and professional documents.
· Reaching out to your advisor, other mentors, and peers for help with revisions can further strengthen your application.
· Take advantage of other resources available to you. For instance, attend grant writing workshops and make use of GradFund!