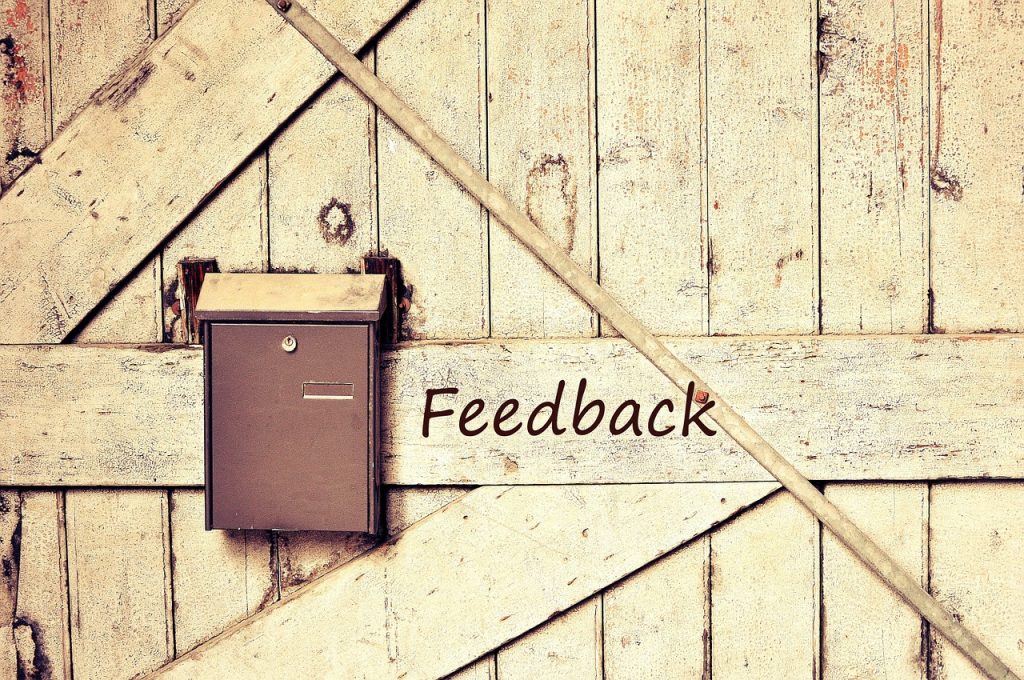 In the process of developing grant and fellowship applications, one of the things that has held me back from soliciting feedback on my proposals was the thought that I needed to submit excellent first drafts. Producing flawless (and fully completed!) first drafts was a daunting task, so I usually postponed writing and didn't ask for feedback until I was sure that what I wrote wouldn't be criticized by my reviewers. There are multiple problems with this mindset. But, most importantly, for me, postponing feedback solicitation meant that my writing didn't get reviewed by others until the very last minute. For my readers, on the other hand, receiving late drafts meant that they were pressed for time to review my material. And, ultimately, this pattern turned the revision process into a very stressful endeavor for me.
I have overcome this unproductive cycle of feedback solicitation with a three-step system that allows me to 1) break down my writing into manageable (hence, less daunting) chunks, 2) warm up to the critique of my work by using a feedback loop populated by not only my advisor and committee members, but also friends, family members, and fellow graduate students and 3) relieve the stress of having to reach the nebulous and unattainable goal of producing excellent first drafts. This system is also useful in conquering procrastination and perfectionism in academic writing. The following suggestions may help those struggling with the same issues to overcome their fear of feedback and start sending out those funding applications!
Suggestion #1: Solicit feedback from multiple people
Your feedback loop should consist of multiple people that you can consult for different writing and feedback needs. For instance, for general issues of clarity and accessibility, ask a friend or family member to read what you have. For disciplinary questions or concerns, contact a fellow graduate student to take a look at your application. For expertise in a particular field, ask your advisor and a committee member to give you feedback. And don't forget that GradFund's interdisciplinary team of fellowship advisors is also here to help you get started on writing your application, review your proposals as you revise your drafts, and answer any questions you may have about grantsmanship. Sending out your application to multiple people will relieve the stress of feeling obligated to produce the perfect draft for the one imaginary and very critical reader you think you need to please.
Suggestion #2: Make feedback solicitation a regular part of your writing process
Instead of waiting until the last minute to send out your proposal, use the different populations on your feedback loop to help yourself get accustomed to seeking early and regular feedback. You can also think of this as establishing a system in which each stage of your writing has a corresponding reader to review what you have produced. Once you're done with a certain stage, open up your proposal to their comments. Having others review your application early on will give you a chance to calmly revise your drafts in light of your readers' feedback rather than rushing through suggestions you may or may not have time to incorporate into your proposal. Through responsible time management, you will also demonstrate to your scholarly community that you're able to work well with deadlines and that you respect their busy schedules.
Suggestion #3: Be specific in the feedback you solicit
Rather than sending people a long proposal with no indication as to what you expect from them, ask them to review portions of your application with specific guidelines on what kind of feedback you seek. For example, if you're applying for a National Science Foundation Doctoral Dissertation Research Improvement Grant, instead of sending your readers a 10-page proposal with no instructions, ask them to spend 20 minutes looking over your methods section to see if what you have is feasible. Because your actual reviewers will most likely only be able to devote a similar amount of time to read your entire application, this is a good exercise for you to see if your writing is clear enough. Additionally, this practice will allow you to divide your writing into manageable chunks and help you complete your application piece by piece.
The art of soliciting feedback for your external funding applications is a skill that you can learn and develop. Soliciting feedback is also a good exercise that will help you practice efficient time management, teach yourself how to be accountable by taking ownership of your work, and become more open to critique. Finally, these steps will also help you cultivate your professional image as an academic, and build a supportive mentoring network.