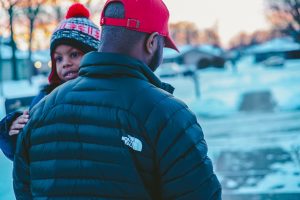 This is the third post in a series on navigating the world of external funding as a parent in graduate school.
Can an experience as normal as parenting be incorporated into your personal statement? The answer is: it depends. On one hand, it might seem that there is nothing interesting about being a parent; it's something, after all, that most people end up doing at some point in their lives. On the other hand, parenthood can also be central to who some of us are as individuals. So how do we balance the contradictory nature of parenting experiences, and when is appropriate and effective to write about them in a fellowship application?
First, let's talk about what a personal statement is. Often times, the personal statement is the first document reviewers will read because it introduces them to the applicant. Think about using your personal statement as a way to make a great first impression: it is your chance to demonstrate to the reviewers exactly how your personal experiences have shaped you into the academic you are today.
Importantly, a personal statement is not simply a CV written in essay form. Rather than restating your accomplishments, a good personal statement complements other aspects of your application. This also means that the background and life experiences you choose to write about should be relevant to the overarching narrative you want to construct. A personal statement is not a place to discuss random life events!
Before you begin outlining your statement, make sure to read the funder's guidelines carefully. Different funders require different personal statements. For example, while the Ford Foundation is looking for ways your background has shaped your commitment to diversity in higher education, the National Science Foundation wants to know how your experiences have motivated you to pursue an advanced degree in STEM research.
Understanding the end goal of your personal statement will help you decide if and how you should incorporate parenthood into your essay. What challenges have you faced as a parent? Has being a parent motivated you to pursue a certain topic of research? How might being a parent shape your teaching philosophy?
Whatever your experiences have been as parent, it is beneficial to think about how they might be incorporated into your personal statement. Don't simply write off parenthood because it doesn't seem extraordinary enough. On the other hand, make sure to include parenting experiences in your personal statement if and only if they are relevant to the story you want to tell about yourself as a scholar.