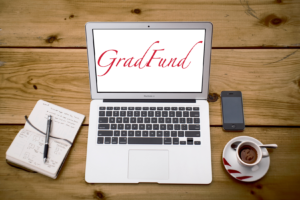 Last Summer, GradFund rolled out its new website. Some of the site's most exciting features include resource pages and a chat function. Continue reading this post to see how you can get the most out of our website.
Learn
No matter what stage of study you are, GradFund's resource pages, which feature workbooks, articles, advice, and video, will help you navigate the landscape of funding. You can access these pages under the "Learn" tab at the top of the page.
One of the keys to succeeding in applying for funding is planning ahead. The Building a Funding Plan resource page will guide you through the process of creating a plan that integrates applying for external funding into your career as a graduate student. If you need help building a short and long-term funding plan, and/or producing a list of fellowships and awards, you should schedule a "what can I apply for?" meeting. For this meeting, you must submit the most recent version of your CV, and if you went through the resource page, you may include a draft of your funding plan to WCOnline, both by 9 AM at least two days prior to your scheduled meeting. The funding plan tutorial, which will walk you through completing this draft, can be found on this resource page.
The Proposal Writing 101 resource page offers the nuts and bolts of developing a proposal for a funding application. The general advice offered here is a complement to individual meetings with a GradFund Fellowship Advisor or Peer Mentor. Also, keep in mind that GradFund's meetings extend only to external funding. So if you're applying for an internal award such as the Bevier or SAS Mellon, the Proposal Writing 101 tutorial can be a helpful tool for you as you develop these applications.
The Building a Funding Plan and Proposal Writing 101 resource pages address the broader aspects of funding, but the GradFund site also has resource pages dedicated to specific grants and fellowships, including the Ford Foundation Predoctoral Fellowship, the Fulbright IIE, and the NSF Graduate Research Fellowship, among others.
Questions
Other new features of the GradFund website are the "Ask a Fellowship Advisor" chat and forums. Both are located under the "Questions" tab at the top of the page.
The "Ask a Fellowship Advisor" chat function allows you to chat directly with a Fellowship Advisor or Peer Mentor. Use this feature to ask quick questions related to GradFund services for applying for funding. Questions best suited to this platform include, "What are your hours?" or "Which type of meeting is best suited to my needs?" More in-depth inquiries should be directed to fellowship_advisor@gradfund.rutgers.edu. A Fellowship Advisor or Peer Mentor will be online to assist you over chat Monday-Thursday from 9:30-5:00. The forum is a space for students to pose questions, share insight, and receive support from each other and GradFund staff while applying for funding.
Meetings and Mentoring Programs
Scroll over to the "Meet with Us" tab, where you can learn about all of GradFund's services and read detailed descriptions of each service. Before booking a meeting on WCOnline, it is strongly recommended that you read the meeting descriptions carefully so that you schedule a meeting that is best suited to your needs and goals. In addition to offering individual consultations year-round, we run summer mentoring programs where students from all disciplines and stages of study work to develop a competitive fellowship or grant application over a period of a few weeks.
This is only a portion of what the GradFund website offers. I encourage you to take some time out to browse and become acquainted with all of our site's features.