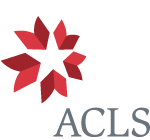 We typically write about fellowship and grant opportunities that are designed to support you and to advance your work on a scholarly project.  In this post, I want to share with you the benefits of a different type of fellowship:  one that will support you as you gain experience working in a profession.
The Mellon/ACLS Public Fellows program is now in its 7th year and offers recent PhDs the opportunity to apply to work with an organization that specifically wants to recruit a humanities PhD to take on a new initiative or to fill a vacancy in their organization.
As an applicant, you apply, go through peer review and if you advance to the semi-finalist stage, a series of Skype or in person interviews.  If you are successful you are offered a two year position with the organization.  As a fellow, you will spend two years working in the organization and this will most likely lead to a career pathway with that organization or in the profession.  Along the way, you will have the benefit of belonging to a cohort of fellows and a larger community of alumni fellows who will be mentors and a professional network to support you as a fellow and beyond.
This is a great opportunity if you would like to have a career pathway outside of the tenure track or even if you eventually would like to be on the tenure track.  You can learn more about the program here.  This year, the deadline to apply is March 22, 2017, and you can apply to work with one of the following organizations:
Dr. John Paul Christy recently visited Rutgers and spoke with a group of students about the program and strategies for a competitive application.  In my next post, I will share with you some of his insights into writing a competitive application.  His advice is invaluable if you plan to apply to the program and also is really useful for fellowship applications and applying for jobs outside of the tenure track.
If you are pursing a PhD in the humanities, be sure to check out this opportunity and think about exploring it further.