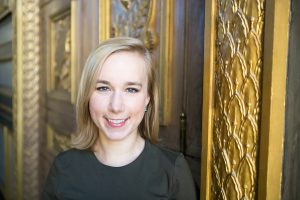 I am a fourth year PhD candidate in art history and a Fulbright Scholar to France. In addition, I am a pensionnaire étrangère (foreign exchange student), at the École Normale Supérieur. I have been in Paris since September 2015 conducting research for my dissertation on female artists and their representations of the nude in early 20th century Paris. My project concerns three artists: Suzanne Valadon, Émilie Charmy and Marie Vassilieff. If you haven't heard these names before, you are not alone. Only specialists in French modern art are familiar with all three. One reason why these artists are not better known is that the likelihood of stumbling upon their work is very slim. The majority of their paintings are located in private collections in France. In order to study these artists, I had to visit many private collections and archives. Accessing these sites was as challenging as it was daunting. I would like to share a couple of my experiences in order to help others whose research requires them to study privately held resources.
For this post, I will focus on my research on Marie Vassilieff. This artist was a prominent figure in early 20th century Paris. She not only ran her own art academy, but she also owned a canteen where avant-garde artists, writers, and musicians congregated. She was close with Picasso, Matisse, Apollinaire, Léger, Modigliani, among others. She produced a unique body of work prior to World War I, including many cubist drawings and paintings. Nevertheless, she has been largely forgotten and marginalized within the history of early twentieth century art. Today, her most notable works are in the hands of a few private owners in France, Russia, Monaco and the UK. The process of uncovering her work and contacting private collectors required significant detective work. Here's how I did it:
To begin with, I examined the few publications where her work has been reproduced. Frequently the museum or the name of the collector is listed in the caption. Once I had the collector's name, I used Google, LinkedIn, etc., to see if I could find an address, phone number or email. If I was lucky enough to find this information, I would write a very formal letter or email in French expressing my admiration for the artist and the importance for me to view the work. This is how I uncovered many of the archives and collections pertinent to my research on Vassilieff.
The first collection I viewed was in Paris. The owner is regarded as the specialist on Marie Vassilieff, not because he is an art historian, but because he has amassed the largest collection and archive on the artist. His apartment is a treasure trove filled with her paintings, drawings, archival documents, as well as her unpublished memoire. The collector himself is a great source of information. He knows all of the details of Vassileiff's life and warned me that there are a number of counterfeit paintings that have surfaced in recent years. Auction houses hire him to authenticate Vassilieff's paintings.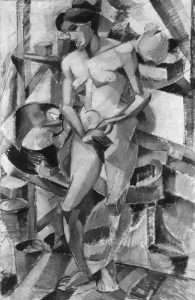 Marie Vassilieff (1884-1957), La femme, c. 1910, oil on canvas, private collection
The second collection I visited was also in Paris. First, I contacted a retired art dealer who I believed owned the painting. She replied, informing me that she had sold the painting long ago, but provided the address of the current owner. I contacted the collectors and, surprisingly, received a response. They are a friendly and cultured couple who own a fascinating collection of 20th century French painting, as well as a very early and important painting by Vassilieff. Seeing these works in person was incredible. Since then, I have gotten to know the couple better and have helped them acquire some books on the artist.
The third site I visited was in Monaco. After a number of polite emails, I received an invitation to view the collection. The collectors are Russian and own several thousand paintings by 20th century expatriate Russian artists. They took me on a tour of their enormous collection, which fills four stories of their villa. Seeing Vassilieff's paintings was the highlight, as they are central to my dissertation, and it was imperative to see them in person.
These experiences prove that conducting research in private archives and collections is indeed possible! In order to be successful, however, there are a few things to keep in mind:
Start with museums, libraries and public institutions first. They are typically the most accessible. Talk to people there to gain further information on the harder to find sources.
Once you've found the contact information for a private collection or archive, approach them carefully.
Start early to cultivate a relationship and build trust.
Speak their language and use formalities when addressing them (French, for example, is much more formal than English. Make sure that you use the appropriate etiquette when writing.) When I went to visit the Russian collectors, I brought pastries with me. It would be rude when visiting a Russian home to come empty-handed.
Once you have the visit set up, come prepared with questions, tools (camera, color checker, ruler, etc).
Dress like you are a professor, not a college student.
Send a thank you letter afterward. You may need to have access to the site in the future, after all.
It is important to note that certain collectors can be guarded and can hold back important information until they know you better (especially relatives of the figure you're researching). Also, realize that they might not like what you have to say. Some collectors, especially descendants, may wish for the figure to be presented in a certain manner. You obviously have no obligation to do so, as it is your research, but you should be careful about sharing details and ideas before you know them better.
Lastly, bear in mind that you have something to offer too! You are a specialist who can offer knowledge and expertise that they may appreciate. This was a surprising realization I had while carrying out my research. Furthermore, I learned that collectors are often excited to meet young scholars who are interested in their collection. More often than not, they will be delighted to share what they have with you!