This post is part of a series where Rutgers grant and/or fellowship winners are invited to share their thoughts and experiences with the process of applying for funding in graduate school.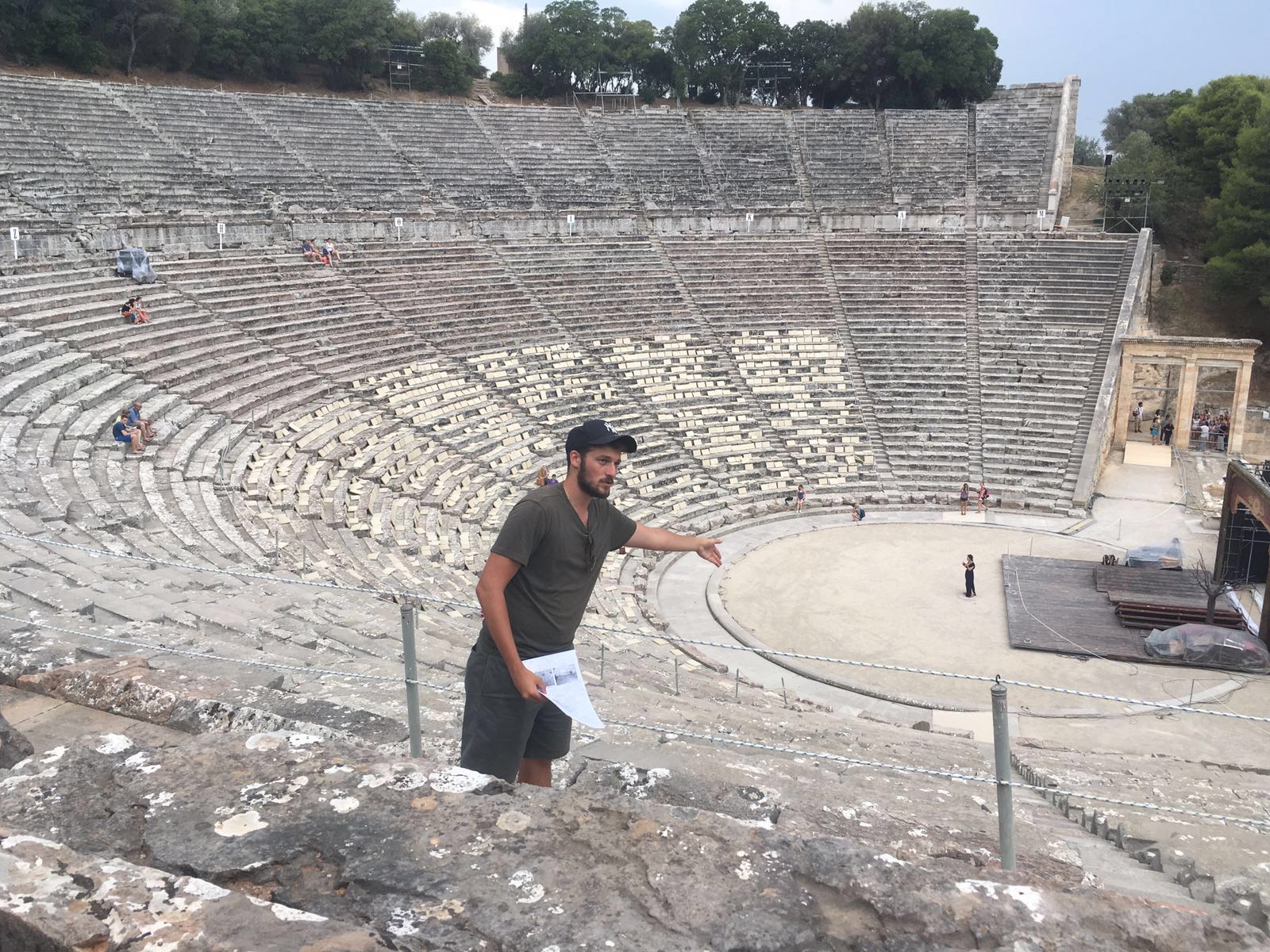 By Emmanuel Aprilakis
My name is Emmanuel Aprilakis, and I am a Ph.D. candidate in Classics, working under my advisor, Dr. Timothy Power. I chose to pursue my graduate degree at Rutgers for many reasons. Still, chief among them was the shared research interests with multiple faculty members and the impressive availability of travel funding.
My research seeks to combine close reading of ancient Greek dramatic plays with a direct exploration of ancient theater spaces across the Mediterranean. This is important because it helps to revivify ancient texts for a modern audience. Moreover, my dissertation work focuses on the koryphaios or chorus-leader of a play, a figure I believe to be misrepresented roundly in scholarship.
I am currently working on my dissertation most squarely but am also in the process of submitting two articles to journals for publication. Further, I am refining the two classes that I will be teaching in the Fall (Intermediate Greek Prose and Sexuality in Ancient Greece and Rome), and also developing a new course for submission to the curriculum committee (The History of Food in Greece). I am also preparing to depart for my future trip to Bulgaria and Greece as a Fulbright grantee.
After returning from my upcoming research travels, I aim to complete my dissertation and enter the job market in search of a full-time position teaching at an American university. Besides teaching and publishing, my chief goal at my future institution is to lead undergraduate study abroad trips to countries where I have academic and language expertise.
My experiences with the world of funding 
I have been extremely fortunate to receive a wide array of awards, grants, and fellowships during my time at Rutgers. The abundance of funding opportunities, coupled with the active support of faculty and advisors, has complemented my own ardor and enthusiasm harmoniously. Internally, I have enjoyed Rutgers' Excellence Fellowship and Teaching Assistantship in alternating years throughout my degree. Inside the department, I have received the Classics Summer Study Fellowship, the Valergakis Graduate Research Grant, and the Affiliated Fellowship with the American Academy in Rome. Outside of the department, I have received an Off-Campus Dissertation Development Award from the School of Graduate Studies and a Mellon Summer Study Grant. Externally, I received both the Brent Malcolm Froberg Scholarship from Eta Sigma Phi and the Bert Hodge Hill Fellowship from the American School of Classical Studies at Athens for summer study at the ASCSA, the Thomas Day Seymour Fellowship for Regular Membership at the ASCSA and most recently, a Fulbright Bulgaria-Greece Joint Research Award.
Thankfully, these various types of support have afforded me the time and energy to focus on my studies. Furthermore, numerous funding sources have taken me abroad on several trips, allowing me to visit many sites, museums, and research institutions crucial to my work in particular.
Eager to make my Fulbright application as competitive as possible, I made sure to use the services at GradFund. My initial meeting with Dawn Wells and later meetings with Assistant Dean Delcorso-Ellmann and Dr. Andrew Carlson were instrumental in the success of my application. This is especially true concerning my statement of grant purpose, widely considered to be the most critical component of such an application. Although I had thought mine was well written and ready to be submitted, they made me realize that it would be beneficial to revamp my statement, which spurred me to write much more clearly for a much more generalist audience.
My advice for other applicants
There is, of course, a plethora of components that make up any successful application. Still, one in particular that I believe went a long way in the strength of my Fulbright application was my ability to demonstrate not only an evident reason why residence in the host country was necessary but also that I had strong ties with my host institutions. The proof of a letter of affiliation, which is often seen merely as a box to check, ought to be treated as a vital tool for the applicant to show their interest in a specific institution. In parallel, this letter also ought to demonstrate the institution's interest in the applicant and their project. And ultimately, the most successful letter will signify the inception of a relationship that has the potential to blossom and develop further even after the applicant has completed their stay. I think that this element can not be overlooked.
In my case, it was rather clear why I was seeking residence in Greece, given my scholarly interests. I also had an existing relationship with the American School of Classical Studies at Athens, given my prior work there. On the other hand, my stated interest in Bulgaria was objectively much less transparent. Although I devoted a healthy portion of my statement explaining why spending half of my grant period in Bulgaria would greatly benefit my research, my affiliation letters needed to fill in any gaps more thoroughly. Thankfully, the summer session director at the ASCSA when I attended in 2016, Denver Graninger, had previously been the Director of the American Research Center in Sofia and not only wrote me a recommendation but helped to put me in touch with about a dozen of the premier classical scholars in Bulgaria today. The ensuing fruitful correspondences not only heartened me to go through with my application but helped lay the groundwork for the content of the glowing affiliation letters sent by my future advisors at both Sofia University and New Bulgarian University.
For the reviewing committee, an adept affiliation letter serves as evidence that the applicant is invested and has their hooks dug deep in the host country. My letters confirmed my interest and belongingness in Bulgaria and Greece and communicated the host institutions' interest in my project and in hosting me as an individual. Beyond that, they express excitement for the prospect of sustained collaboration even beyond the limits of my Fulbright term. The idea of establishing long-lasting ties abroad is most welcome for me and excites me tremendously for my upcoming trip.
To learn more about Emmanuel's research, you can see his profile on the Fulbright grantees' page and the Department of Classics at Rutgers:
https://www.fulbright.gr/en/grantees/us-grantees/profiles/2020-2021/1278-emmanuel-aprilakis
https://classics.rutgers.edu/people/graduate/257-people-grad-emmanuel-aprilakis